Horse Racing Betting in New York
While many types of wagering exist in today's day in age, none are quite as storied as horse racing betting in New York. New York horse racing betting stands apart because of the history of racing. Horse racing has been going on for centuries, with several historic race tracks that have called the state home. The most prominent horse race tracks are overseen by the New York Racing Association (NYRA), including Aqueduct, Saratoga, and Belmont Park. Belmont Park is the home of the third jewel of the Triple Crown – the Belmont Stakes.
In addition, betting the ponies falls into a category of its own versus sport and casino gaming. Horse racing betting involves pari-mutuel wagering, where bets are placed into a pool and payoffs are split between the winners. Unlike the house vigorish associated with other types of betting, the race track only takes what could be considered a small handling fee from all bettors. Race tracks make no money from losing bets, whereas bookies profit from someone else's loss. This is why horse racing betting is legal in the majority of the United States, while sports and other types of wagering are subject to gambling laws.
New York is an ideal place for betting the horses because there are three ways that residents can wager – at a live horse race track, OTB facility, or online racebook. Online horse racing betting has become the preferred method for many horse enthusiasts due to the convenience, rebates, and variety of wagering options. There is a lot that you can learn about horse racing betting in New York, including how to bet on the Belmont Stakes, the horse bets that you can place, and more.
How To Bet On The Belmont Stakes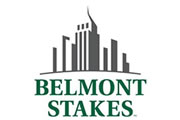 The Belmont Stakes has taken place at Belmont Park in Elmont, NY for over 150 years. The 1 ½ mile race is a test of endurance and stamina for the top three-year-old Thoroughbreds. Also known as "The Run for the Carnations", the Belmont Stakes marks the end of the Triple Crown journey. When taking a trip to Belmont Park is not in the cards, you can visit any OTB location or online sportsbook to bet on the Belmont Stakes in New York.
Online racebooks tend to be the go-to for Belmont Stakes betting, because you can bet from anywhere that you have an internet connection and there are bonuses at most horse racing betting sites. All of the top racebooks will have Triple Crown betting odds available for wagering, along with the latest horse racing news for the Belmont Stakes. You can bet on the winner of the Belmont Stakes, and potentially the Triple Crown, at online racebooks like BetOnline and SportsBetting.
Horse Bet Types
The first step toward horse racing betting in New York is to have a firm grasp on different horse bet types. Whether you are at the Aqueduct, a local OTB bar, or using an online racebook, the wagering options will be similar. Horse bets can be categorized as either a straight or exotic bet, and we can give you background on both beginning with straights.
Win

– Betting on your horse to win.

Place

– A wager on your horse to finish first or second.

Show

– A bet that your horse will be one of the top three finishers.

Across The Board

– Betting across the board is taking a win, place, and show wager at once. It will cost more, but there are potential benefits. Should your horse win, you receive a larger payout that includes both place and show winnings. Should your horse place, you also receive the show winnings and so forth.
Exotic wagers involve multiple horses and/or wagers. For this reason, the payouts are higher compared to straight wagers. All of these horse bets involve predicting the exact finishing order of each horse, rather than just betting on your horse to be in somewhere in the top. You do have the option to "box" your bet, which means you can bet on all possible finishing combinations rather than the exact order.
Exacta

– Bet on the horse that will finish first and the horse that will finish second.

Trifecta

– Wagering on the first, second, and third place finishes in order.

Superfecta

– Betting on the top four horses, in specific order.
Where Are Live Horse Racing Tracks In New York?
There are several live horse racing tracks for betting in New York where residents can watch races and bet on horses. You will find a few Thoroughbred horse race tracks, with the major tracks operated by the NYRA. New York is also home to harness horse racing tracks and dual racetrack-casinos. Here is a list of the horse racing tracks that you can visit for horse racing betting in New York.
NYRA Thoroughbred Racetracks
Saratoga Race Course (Saratoga Springs)
Belmont Park (Elmont)
Aqueduct Racetrack (South Ozone Park)
Harness Racing Tracks In NY
Tioga Downs Race Track (Nichols)
Batavia Downs (Batavia)
Buffalo Raceway (Hamburg)
Monticello Raceway (Monticello)
Vernon Downs Race Track (Vernon)
Off-Track Betting Locations In NY
There are numerous OTB locations for horse racing betting in New York. The off-track facilities follow the same pari-mutuel system, the only difference is that you will not able to watch live horse races taking place. Instead, OTB locations are in venues like restaurants, bars, and dedicated gaming facilities. You can find horse betting venues all over the state, but here are a few of the most popular OTB locations in NY based on reviews. For a full listing, you can visit the New York State Gaming Commission website.
Clubhouse Race Book (Albany)
The Dr's Inn Grill & Tap Room (Rochester)
Brody McKay's Tavern (Selden)
Churchhill's (Rockville Centre)
Rocky Point Ale House (Rocky Point)
Trinity Restaurant and Bar (Floral Park)
Horse Racing Betting Online In New York
Horse racing betting in New York online has become increasingly popular over the last decade. Though there is still a thriving horse culture in NY, online racebooks allow horse enthusiasts to bet more flexibly. Horse racing betting sites give you instant to access to more than 100 different horse race tracks in the US and abroad. The same horse bets are accepted at online racebooks, including win, place, and show bets, along with all the exotics. One of the biggest advantages is that most sites will give you rebates for every horse bet, win or lose. Mobile racebooks add an extra level of convenience, allowing you to bet on the Belmont Stakes, Breeders' Cup, and other races from your smartphone or tablet. Some of the best online racebooks for betting on horses in New York are BetOnline and SportsBetting.
New York Horse Racing Betting FAQ's
What The Best Way To Fund My Racebook Account?
The best way to fund your online racebook account is with bitcoin. The digital currency has become the most popular banking method for online betting due to its reliability and speed. You can send anywhere from $20 to $25,000 almost instantly, without having to give any personal bank account information. Other racebook deposit methods that may be accepted include Visa, MasterCard, checks, and money orders. High rollers can use bank wire transfers that have no limit on the amount that can be deposited.
How Do I Collect A Deposit Bonus At An Online Racebook?
One of the main perks of horse racing betting in New York using an online racebook is claiming huge bonuses. Deposit bonuses will match your initial deposit by a certain percentage, allowing you to instantly boost your bankroll. Depending on the site, you can either claim bonuses from your account dashboard or be asked to enter a promo code while in the online cashier. Some online racebooks also offer rebates for every horse bet that you place.
How Close To The Start Of A Race Can I Place A Horse Bet Online?
When horse racing betting in New York, online sportsbooks will allow you to place bets right until the official post time. When the horses enter the starting gate of the race, no more bets will be accepted.
How Long Does It Take To Grade Each Race And Credit Winnings To My Account Online?
Bets at horse racing betting sites are graded as quickly as possible. Once the racebook received confirmed results from the track, your account will be updated immediately. It usually takes no more than 10 to 20 minutes for horse bets to be resolved.
What Are The Payout Options At Online Racebooks?
The payout options at online racebooks will differ, but all of the methods are safe for horse racing betting in New York. Bitcoin offers the fastest online racebook payouts, with funds reaching your bitcoin wallet within 48 hours or less. This is also the only payout option for New York horse bettors that never has fees. You can typically withdraw anywhere from $25 to $10,000 in bitcoin at horse racing betting sites. Additional payout options include checks, bank wire transfers, money orders, and person to person.